Sansevieria trifasciata is the best plant for newbie plantmoms. Why? They're nicknamed die-hard plants for being hard to kill. Not that you plant them and just leave them be, but they would survive many extreme conditions having originated from West Africa from Nigeria east to the Congo. This plant exchanges oxygen and carbon dioxide using the crassulacean acid metabolism process (the stomata in the leaves remain shut during the day to reduce evapotranspiration, but open at night to collect carbon dioxide), this allows them to withstand drought.
These tropical, upright plants are really a pretty addition to the home, they may not be on the most useful plants list, but their air-purifying ability, is one reason to have them.
Nowadays known as Dracaena trifasciata, these hardy plants were placed under the genus Dracaena in 2017 – which is kinda amusing since they've been classified in many other genus before. For the sake of consistency, let's use Sansevieria trifasciata for this post.
Other Names
Snake Plant, Mother-in-law's tongue, and Viper's bowstring hemp are the names the Sansevieria trifasciata is often known for. But in many parts of the world, it goes by a different one. Its other names include Saint George's sword (Portugal and Brazil), Tiger's tail (Japan), Cow's Tongue (Puerto Rico), Women's tongue (Netherlands, Flanders, and German-speaking regions), and bowstring hemp (German speakers).
It's being called bowstring hemp has to do with its fibers being used for making bowstrings.
Sansevieria trifasciata Varieties and Cultivars
(Variety: when a plant population within a species differs in some significant way from other members of that species. Example: white flowers instead of pink, pink edges of the leaf instead of white. Cultivar: a cultivated variety; selected and cultivated by humans but could also be a mutation.)
There are many varieties and cultivars of the Sansevieria but here are the ones we are probably more familiar with.
Futura robusta
This Snake Plant is a slow growing and is a short variety of the Sansevieria trifasciata. The wide, pale silvery green leaves are striped with deep green irregular lines.
Hahnii
Also called Bird's Nest Snake Plant and Dwarf Snake Plant, the Hahnii cultivar is the direct parent of most dwarf cultivars. The Hahnii develops like a rosette, its leaves grow from the tip of the stem, an extension of the underground stem or rhizome. The leaves grow spirally around it and their sides are curved upwards resembling a nested look.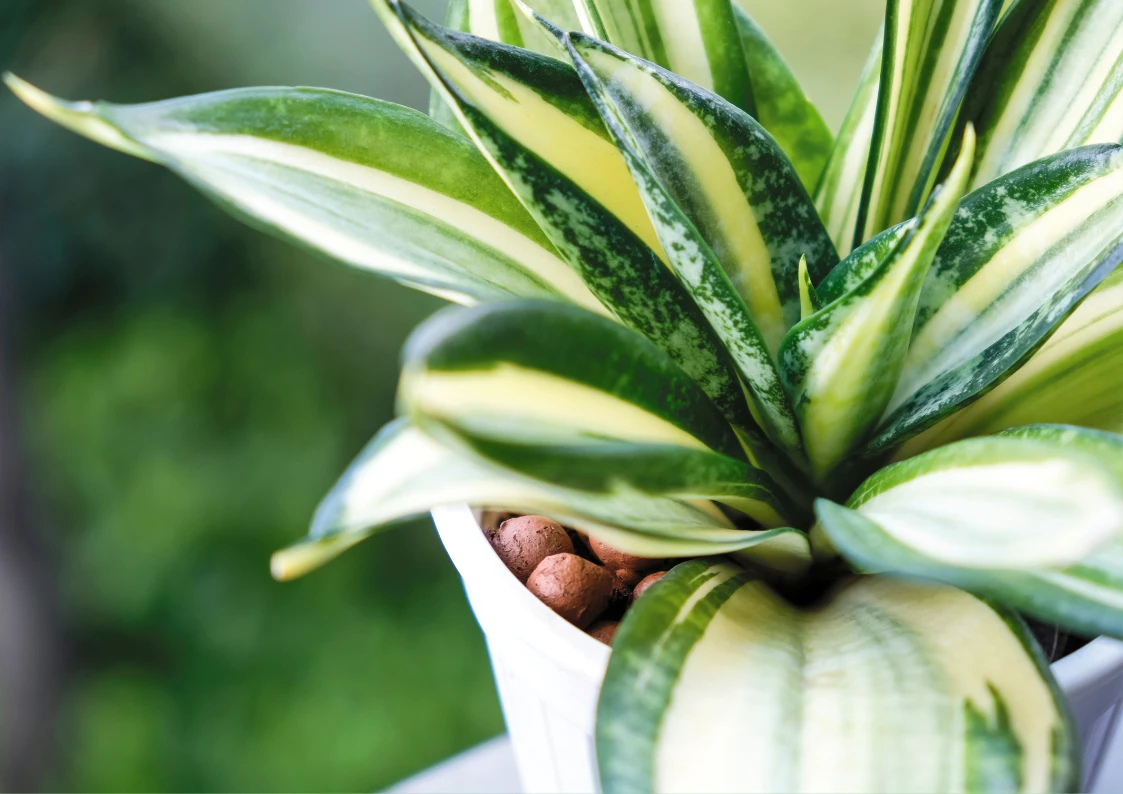 Silver Hahnii
Sansevieria trifasciata silver hahnii is a sport of hahnii with light green foliage and  dark green horizontal stripes.
Golden Hahnii
Like the Hahnii, the golden hahnii is a compact rosette of glossy succulent leaves with broad creamy-yellow margins. Its scientific name is Sansevieria trifasciata golden hahnii and is also known as Golden Bird's Nest Sansevieria.
Laurentii
The laurentii is also called variegated snake plant, gold-edged snake plant, goldband sansevieria for its creamy-yellow edges, sandwiching the greener parts of the leaves.
Moonshine
The moonshine variety has a unique silvery green foliage that plantmoms consider it one of the most beautiful among snake plants. It is also known as Silver Snake Plant and the scientific name is Sansevieria cragii.
There are about 70 varieties and cultivars of the Sansevieria species, and we'll write about them next time.
Toxins Removed
The results of the NASA Clean Air Study shows that in addition to absorbing carbon dioxide and releasing oxygen through photosynthesis, certain common indoor plants may also provide a natural way of removing volatile organic pollutants (benzene, formaldehyde, and trichloroethylene were tested). One of the plants tested and which passed with flying colors was the variegated snake plant or the Sansevieria trifasciata Laurentii. It is able to remove benzene, formaldehyde, trichloroethylene, xylene and toulene.
The Sansevieria Trifasciata is an ideal bedroom plant, as mentioned above, it releases oxygen at night while you sleep – which is in contrast with most plant that releases carbon dioxide instead (in the absence of photosynthesis). While you may need a lot of them to actually do wonders, having one in the bedroom surely brightens it.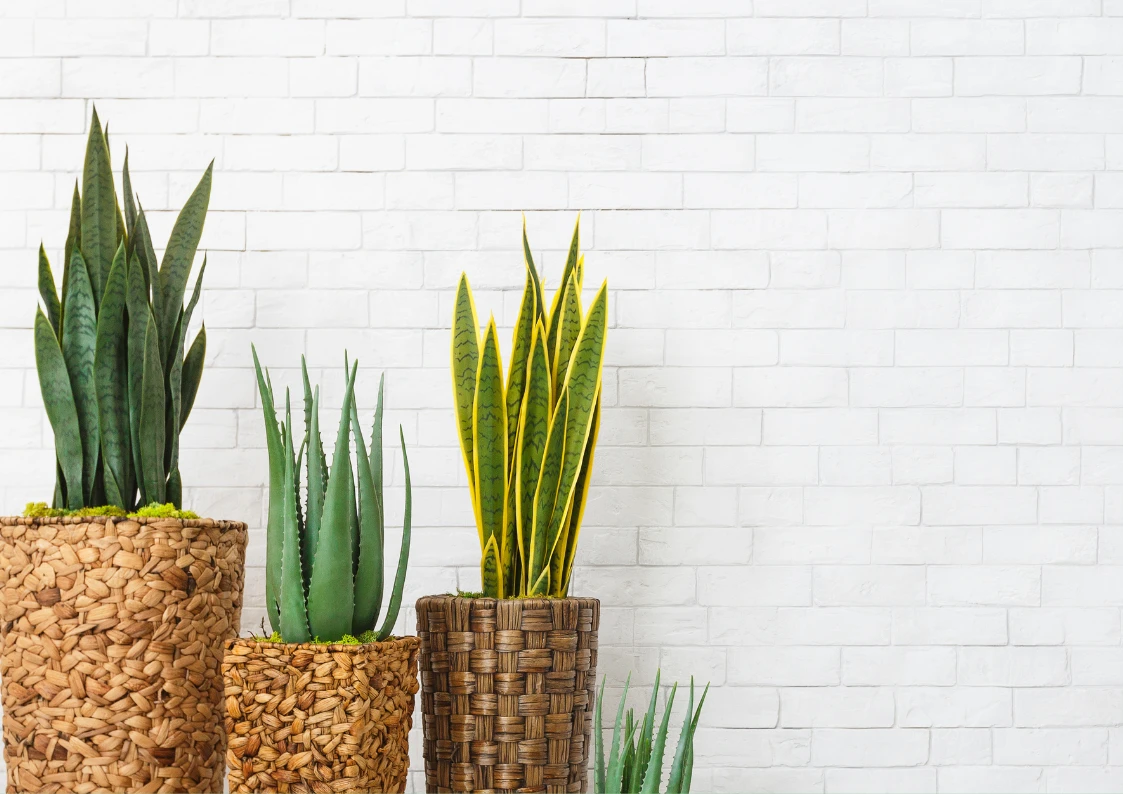 Soil
To imitate its original environment, it is best to plant Sansevieria Trifasciata in a fast-draining, sandier soil. Cactus and succulent soil mix would be a good thriving environment for them. This mix drains water well, which the plant prefers. Others put pumice or perlite into the mix for grainier texture.
Watering
Sansevierias are forgiving, so it's ok to forget to water them. 😀 Like most plants, it is better to underwater these indestructible plants than to over-water them, which is kinda one of the reasons they die (and make them indestructible).
Lighting
Snake plants thrive in any given light conditions, they can tolerate bright sunlight, would be ok in a corner without sun but it's best to put them with good indirect sunlight. Like many variegated samples, it will lose variegation in low light.
Common Problems
While hardy, snake plants can be infested by mealybugs and spider mites. These pests suck off the sap from the leaves, so it's best to treat or remove them as soon as you notice. You can wash the leaves off or dab a little alcohol on them to kill them off. Overwatering is another way to kill snake plants (not that we want that). Growing in dry regions, they still prefer being on the dry side, so water in between being completely dry. Sparingly give water in the winter and make sure there are no leftovers inside the middle nest of your snake plants to avoid rotting.
Toxicity
Its toxicity may be low, still it's best to have your pets away from snake plants. Sansevieria Trifasciatas' saponins, the chemical it produces to protect itself from insects, microbes, and fungi can cause pets upset stomach.
Flowers and Fruits
Sansevieria trifasciatas bloom, but it's sadly an indication of stress. The roots of snake plants grow wild and long-bound even though the plant itself is a slow-grower. The plant blooms when it feels that its survival is being threatened – most of the time because of too much root.
Propagation and Repotting
When you decide to repot your snake plant,  use a loose, well-drained potting mix – usually a cactus soil mix would be good. Propagating Sansevieria trifasciatas is easy to do in both water and soil. You can even cut out drying leaves and put the healthy parts in water and it will grow new seedlings.
If doing dividing method, examine the roots first. If there are sturdy ones that has grown around, it is best to cut through them. The roots are as hardy as the leaves, so don't worry. At best, use a sharp garden knife when dividing a root bind. Many plantdads and plantmoms sterilize the knife they use when cutting out roots, there's nothing wrong with being careful.
Just always remember to choose a pot where the roots can grow well and to check if there's still room for it to grow.