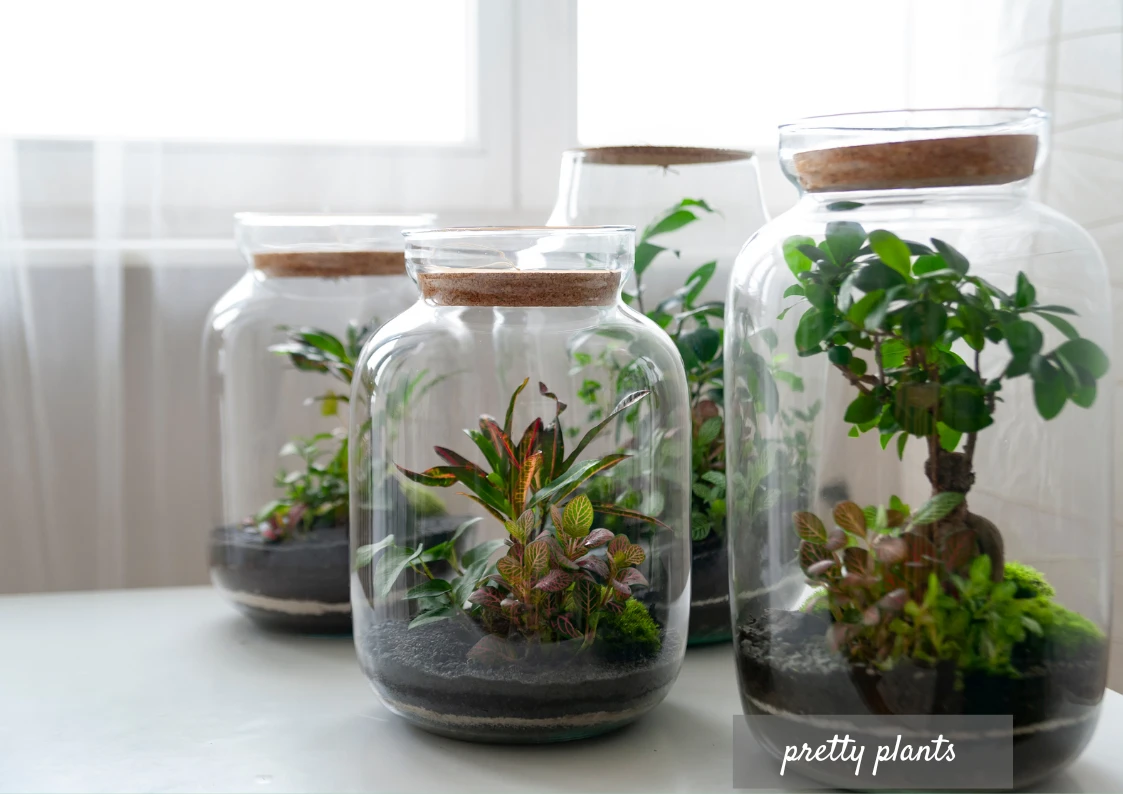 Plant jars or mini terrariums are small, enclosed ecosystems designed to house and display plants in a controlled environment. They typically consist of a glass container or jar that is sealed or partially sealed to create a self-sustaining environment for the plants inside. The container can be transparent, allowing you to observe the plants and their growth.
Terrariums and mini plant jars can be a great educational tool for teaching kids (and adults) about ecosystems, plant growth, and the water cycle. Observing how plants interact with their environment in a confined space can be a fascinating learning experience.
Having a small piece of nature indoors can have a calming effect and provide stress relief. Watching the plants grow and interact within the enclosed space can be therapeutic. Designing and arranging a mini terrarium can be a creative and enjoyable activity. You can experiment with different plant combinations, decorations, and container types to create your own unique miniature landscapes.
Mini terrariums are popular for several reasons:
Aesthetic Appeal: Mini terrariums can be beautiful decorative pieces, often creating a miniature world with a variety of plants, rocks, and other decorative elements.
Low Maintenance: Due to their enclosed nature, mini terrariums require minimal care. The enclosed environment recycles moisture through condensation, reducing the need for regular watering.
Space-Efficient: They're ideal for small spaces like apartments, offices, or dorm rooms where there might not be a lot of room for traditional potted plants.
Unique Plant Varieties: Certain plants thrive in the high humidity and controlled environment of a terrarium, allowing you to grow plants that might be difficult to cultivate in other conditions.
Creating a mini terrarium involves a few key steps:
Choosing a Container: Select a glass container with a lid or cover. The container could be a clear glass jar, vase, fish tank, or any other suitable glass enclosure.
Layering: Create a layered foundation using gravel, activated charcoal (to prevent odors and mold), and potting soil. These layers help with drainage and maintaining a balanced environment.
Plant Selection: Choose plants that are well-suited for the conditions within the terrarium. Typically, plants that thrive in high humidity and low light are good choices.
Arrangement: Arrange the plants, along with any decorative elements like rocks, pebbles, or miniature figurines, to create an attractive composition.
Maintenance: Seal the container to create a humid environment. Over time, the moisture inside the container will evaporate, condense, and water the plants, creating a closed water cycle. If the environment becomes too humid, you can open the lid for a while to allow excess moisture to escape.
Light: Place the terrarium in a location with indirect sunlight or artificial light. Too much direct sunlight can create excessive heat and damage the plants.
Watering: Terrariums require very little watering since the closed environment retains moisture. Only water when the soil appears dry or the plants show signs of distress.
Pruning: Trim or remove any dead or overgrown plant parts to maintain the aesthetics and health of the terrarium.
Small planted jars and terrariums make for thoughtful and visually appealing gifts for various occasions.
Remember that while there are many benefits to planting in small jars or mini terrariums, they also come with specific care requirements. It's important to choose the right plants, ensure proper drainage, monitor moisture levels, and maintain the balance of the mini ecosystem to keep your plants healthy and thriving.With the right care, mini terrariums can be delightful, low-maintenance additions to your living or workspace.